Long time Cardamom Addict readers know this handsome boy to the left--this is, of course, Mr. Bean. If you follow my @cardamomaddict Twitter account, you know things have been rough for this dear old cat these past few weeks. Unfortunately, one week after being diagnosed with both liver and pancreatic cancers, this lovely boy passed away.

Also posted at Dreamwidth, where there are comment(s); comment here or there.
As could probably be expected, I think this would be a *good* thing!
A bacon restaurant has been ordered to close down due to the smell of bacon.
I wish we had access to mic'd up players all the time (sadly, these snippets are all family friendly - there's none of the blue language that's got to feature heavily in games) -
some of the best sound bytes from the first-round of Playoffs
- wow, they sure do say "boys" a lot
Spectacular Edible Outfits Made of Ordinary Foods - These dresses are part of an awesome series entitled
Wearable Foods
. Created by Korean artist Yeonju Sung, each of these garments was made of edible materials such as red peppers, eggplants, bananas, green onions, lotus roots, white radishes, tomatoes, and red cabbage.
The Fast and the Closeted:
How Hollywood's Most Homoerotic Franchise Put It In Neutral
- an interesting breakdown of the movies and how the slashiness has declined as the series' popularity grew
This is amazing - check out the Widow's Walk on top!
best engagement present ever - y/y ?
White Collar
fic rec:
Break Down In the Shape of Things to Come
by
shaenie
Summary: After the battle in the Laurentian System, the Defiance requires extensive repairs, leaving Captain Burke filling in at Starfleet Academy (whether he wants to or not), where he meets troubled half-Vulcan Neal Caffrey, under what are not the best circumstances for either of them.
the summary of this
Star Trek Reboot
fusion didn't really draw me in but I checked it out based on a rec, and the story quickly grabbed me. there's tons of longing, a bit of Academy politicking and a happy ending - it's not perfect, but overall I enjoyed it a lot - my sole real disappointment was that Elizabeth is a side character in this, not part of the relationship
/OT3 tinhat
I'm so freaking glad I opted for this cold - it's just so much fun! Being all stuffed up means I wake up even more cotton-mouthed than usual, and the sneezing and snuffling is annoying as hell, but at least I haven't lost my voice yet *crosses fingers that doesn't happen*

Alec Ash: How did you start writing science fiction?

Fei Dao: When I was at middle school, 16 or 17, I started to read a lot of sci fi. I read the magazine Science Fiction World, and became more familiar with sci fi literature. I liked it because there was a lot of imagination and novelty in it. At that time, my dream was to become an author. When I started out, I didn't think at all about writing science fiction. Back then I felt sci fi was very difficult to write, and needed some knowledge of science, so I could only appreciate it but not write it myself.

Like many post 80s authors, I started out writing campus stories about young people in school. But I couldn't get them published. Until one day in university, I wrote a science fiction story on the side, and sent it in to Science Fiction World. I was just giving it a go, I had no idea that that first story would get published [in 2003]. A year later, I had another idea, and that second story also got published. So that encouraged me, and I started writing sci fi.

Also posted at Dreamwidth, where there are comment(s); comment here or there.
Nicked from Randy McDonald
One pundit is skeptical.
Also posted at
Dreamwidth
, where there are
comment(s); comment here or
there
.
The Long Weekend went well enough, in some respects. We got an unexpected Cal-less evening on Sunday, and were also able to see
Star Trek: Into Darkness
on Friday, which I'm less and less enthused with every time i think about it. Having been raised around the industry all my life, I think I maybe understand the exigencies of production more than some nerds, but the fact remains that those were some stupid fucking decisions which got made--stupid in terms of creating a viable narrative and also stupid strategically, in that they seemed designed to play to the elder audience segment but didn't take into account almost anything said segment believes about the franchise's core values, a move which (believe it or not!) is actually guaranteed to alienate the very people the film's production team wants to hold onto. Yes, there's also a younger segment, and there's certainly enough of the original series' jolt and charm to hold onto them, when we're only talking about character dynamics. But when even I, the self-proclaimed queen of doing shit simply because I like the trouble it'll cause my characters and then scrambling to justify it logically after the fact, have to admit that large world-building sections of the movie don't make any sort of sense at all...yeah, well, you may have fucked up, just a tad. A scootch.
On Saturday, meanwhile, we were able to spend a big segment of the day at Jason Taniguchi's annual Reading of Single Pages, a birthday-related activity which involves his friends coming over and reading a randomly-decided page from whatever books they've brought with them, basically in order of who throws their hands up first. Took Cal with us, and segregated him in Jason's condo's "library" most of the time (the party room is walled with mirrors, which makes him insane), where he could watch They Might Be Giants'
Here Come the ABCs
to his heart's content. He did come out and play three-way catch with Steve and two younger kids for a while, which was great, but I think he disappointed Jason's son Evan, who's previously interacted fairly well with him one-on-one in more intimate settings. Ah well: it was better than the kid on Friday who got into an overcrowded elevator with Cal, saw him frantically trying to regulate himself by singing some
Sid the Science Kid
song about everybody moving their body like they should at the top of his lungs while dancing and making up to himself in the mirror, and literally mouthed at his father:
What the HECK...?
And Monday was mainly about trying to make sure Cal ended up really tired, though I was able to talk Mom down from an impromptu trip to Cherry Beach (fuck, I hate that place) to one to Trinity Bellwoods Park instead. So the migraine might have been about the sun, or stress--being with Mom in public always makes me tense, no matter what--or the incipient thunderstorm of last night, but it seriously wrung me out. I'm still not feeling great.
Okay: real stuff to do now. Mail, and email, and signing contracts, and rocking some actual fucking words. Chapter Five ahoy.
This entry was originally posted at http://handful-ofdust.dreamwidth.org/493816.html. Please comment either here or there using OpenID.
Last night I went to bed with a headache so bad I genuinely couldn't stand to be upright anymore, in constant hammering, feverish, and teeth-grinding pain. I've been calling it a migraine, though it didn't quite go full sparkler-at-the-corner-of-your-eyes; not sure what else to call it, really. Anyhow, thankfully I woke up without it this morning, in time to pull myself out of bed, get everybody else on their way and then go for physio, which I trust is helping, though I really can't afford to go more than once a week (twice a week would amount to an extra hundred dollars added to the budget, only some of which we ostensibly get back from insurance. Man, I hope Steve's tax refund comes soon).

It seems some companies don't enjoy free publicity. Due to legal protests from Ferrero, which owns the Nutella brand, the organizer of World Nutella Day has said she is canceling the unofficial holiday, as well as the event website and Facebook (FB) and Twitter accounts dedicated to celebrating the creamy, chocolatey, hazelnut spread.

Also posted at Dreamwidth, where there are comment(s); comment here or there.
Well, don't mention it by name.
Upstairs at Eric's
by Yaz, as well as a ridiculous amount of Berlin. Yay!
I also got a lot of work done;
Baton Rouge Bingo
is coming along nicely, thank you very much for asking, and I couldn't be more pleased. Making the deadline is an entirely different matter, so we just won't talk about that, okay?
Have I shared the cover art?
I like it!
Amie arrives tonight, which will be fun, despite the fact I have a rather lengthy day tomorrow.
It never ends in Gregworld.
And now back to the spice mines.
Yesterday I downloaded
I had a couple of hours to write this morning (between my errand at Home Depot and when Costco opens). I didn't have the motivation to try to get up to speed on my novel (mostly because I don't have enough time), so I decided to submit a story instead.
I know I'm in a bit of a block. I know I need to put time in the chair. I will, soon, I swear.
My total number of submissions is now 18 for the year. This is week 21. I tend to fall behind over the summer months, so I'm not sweating (too much) how far behind I've slipped.
The shiny counter:
18 / 52 submissions. 35% done!
The only writing I've done over the last few weeks has been my hundred words a day. Long story, but the short version is that I'm focusing more on exercise and backlogged projects around the house.
Current Location:

Starbucks

Current Mood:

unmotivated

May 14th, 2013 - The day started early, as days in Washington tend to do. I was up before my alarm, already thinking about the day ahead of us: a day of meetings, events, handshakes, introductions, and effort. The Planetary Society was in D.C., and we were there to help save Planetary Science.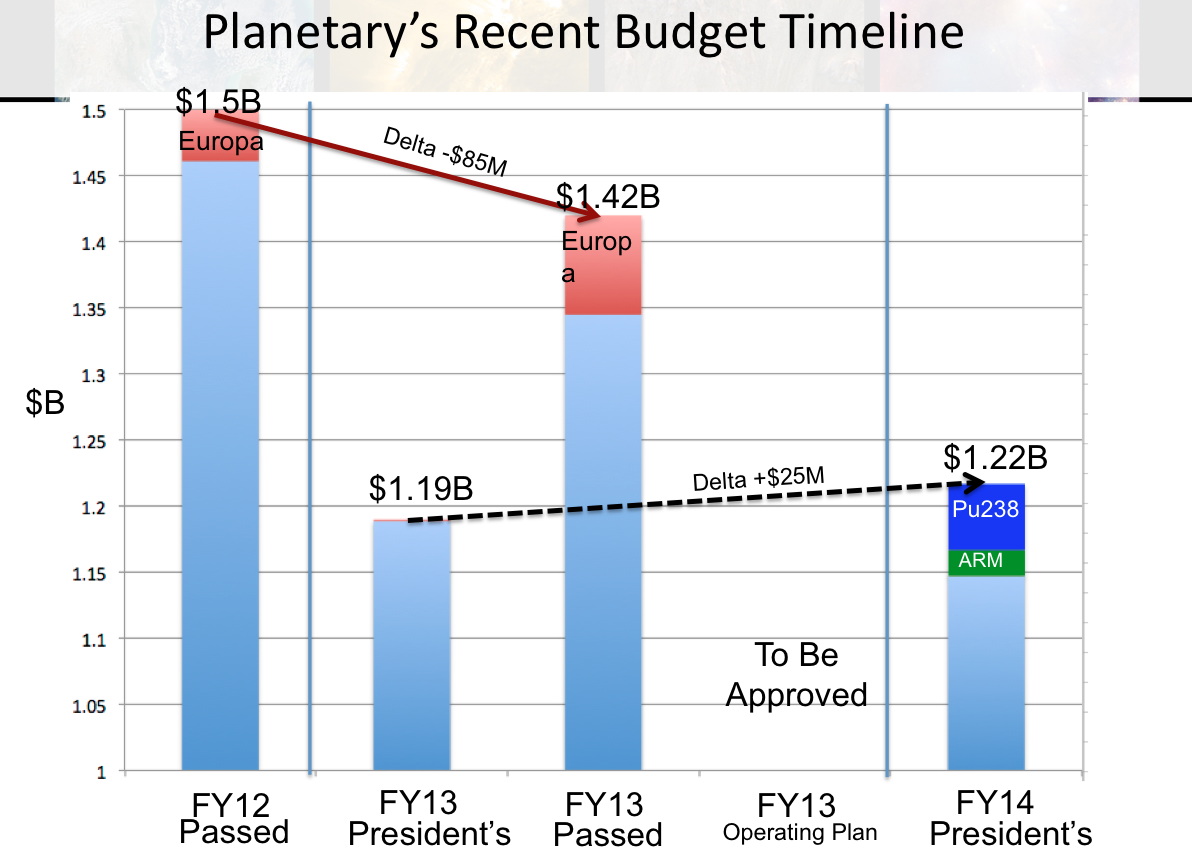 (To put this in perspective, the Canadian Space Agency's annual budget is something short of $500,000,000, which is why there aren't orbiters around other worlds with the Maple Leaf on one side).
Also posted at
Dreamwidth
, where there are
comment(s); comment here or
there
.